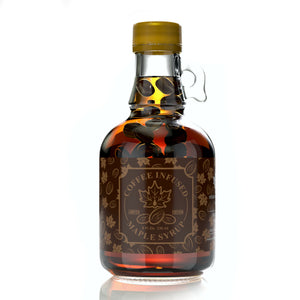 Two great tastes that are even better together. We pair our certified organic maple syrup with the smooth taste of coffee beans to create a decadent treat that is definitely more than the sum of its parts.  We hot-package 8.5 oz of our amber maple syrup over perfectly roasted coffee beans and then allow the flavors to meld together to form a delicious treat.  Great on pancakes, waffles, toast, or drizzled over ice cream, this coffee flavored syrup can also be part of a mixed drink or marinade.
Delicious Syrup!
We really enjoy the coffee infused syrup that we bought recently. While the flavor was mild, it was enhanced when having a cup of coffee with our breakfast. Definitely looking forward to trying the orange and cinnamon as well!
Coffee maple
While I enjoyed the flavor very much - it was tricky pouring the syrup with the coffee beans in the way and coming out.
Hi Deb,
Sorry this was difficult. We've often recommended using a fork over the end of the bottle to retain the coffee beans, although some customers have found its easier to just pour the beans out and keep the syrup in the bottle. We're looking into a screen or nozzle we can put over the end of the bottle but we haven't found anything that works great yet. Its a new product so we're still exploring options.
Feel free to contact me for an exchange or refund if you're not satisfied.