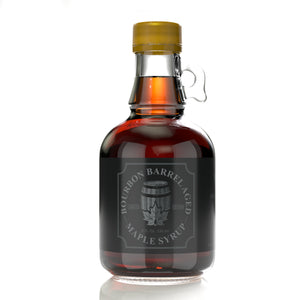 This smaller sized bottle of our delicious Bourbon Barrel Aged Syrup is packaged with a bottle and label that matches our infused syrups.  If you're trying to assemble a gift basket or box with our delicious infused syrups and want to include  Bourbon Barrel Aged Syrup this is a great option.
Delicious!
Pure maple syrup and oh so good! The bourbon barrel aged and the vanilla infused are truly special. Glad I found Sterling Valley Maple. Everything was well packed and arrived safe and sound!
Better than Vermont
I bought some bourbon aged maple syrup from Vermont on a trip earlier this year. My sister heard about it and sent me some of your bourbon aged syrup. I am a true believer and will keep ordering more. Great job!!
Great taste
Ordered all 4 flavors and enjoyed it.